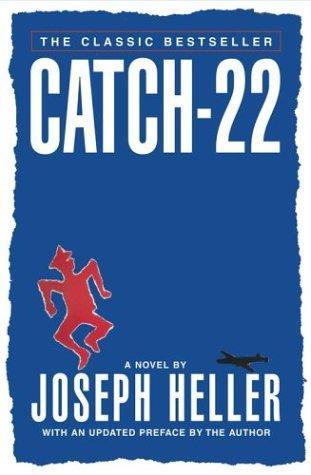 Catch-22 (Catch-22 #1)
by Joseph Heller
My Rating- 
I was finally able to get my hands on this book which has become an extremely popular catchphrase. The title of the book refers to a rule in the army which states that a man is considered insane if he willingly continues to fly combat missions, but if he makes the request to stop flying missions he is considered sane & therefore has to fly the missions.
It is a situation from which there is no escape due to contradictory rules. The main character in the book is Yossarian who keeps coming up with new ways to avoid flying combat missions but Colonel Catchcart keeps raising the minimum number of missions the men must fly to complete the service.
The book explores themes like the futility of war, the bureaucracy in the army (which can easily be extended to any government organization), internal politics (which could apply to any office space), the flawed idea of justice and the military-industrial complex.
The book is silly in parts, funny in general & almost every character is the personification of an industry or idea that is so commonplace that it is overlooked.
This is one of those books which reflects the irony of life & the systems in place in our workplace & educational environment which makes us feel so helpless that we can only laugh about it.
Not to be missed.
Bossypants
My Rating- 
I picked up this book because I like Tina Fey. She is witty, smart & has been a regular on American television. This book takes us through her journey in her words and in her usual wit and humor.
However, there is nothing extraordinary about the book. We see her go through the various phases in life which are slight commentary on women's bodies, the work-life-family balance women have to go through and her being cast on the various roles that made her popular.
It is an okay read.
The World According to Garp
My Rating- 
I remember reading The Cider House Rules and I had enjoyed it thoroughly. For a long time I did not want to read any more John Irving simply because I did not want to be let down by the author.
However, I am glad I picked up this book. The World According to Garp is the story of T.S. Garp who is the bastard child of Jenna Fields. She is a feminist and will go on to become the voice of feminism by telling her story in a book.
This book is the life of T.S. Garp as he grows up, starts writing, moves to Europe and then goes in the shadows of his mother who becomes a popular feminist, then he gets married and has kids.
The book is brilliantly written, is smart and witty and the characters are such that they will stay with you long after the book is done and dusted.
A delightful read really.