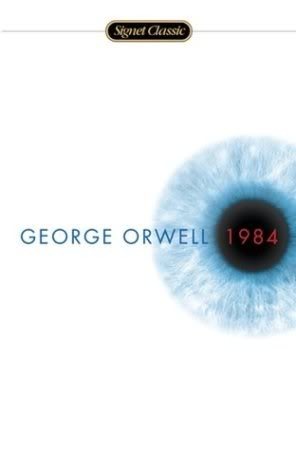 1984
 This book is a nightmare come true- a government that can track anything and everything you do. I had thoroughly enjoyed Orwell's Animal Farm for its short, accurate portrayal of politics not only in Russia but in almost every country in the world. It is not without any reason that this book has become iconic with people referring to 1984 in so many texts and movie spin-offs which resemble this sort of a society…or what is today known as Orwellian Society.
The central theme of this book is the totalitarian society in which people live. This society is controlled by an authority which controls what you see, watch, do, wear, eat and the way you lead your life. It is a scary scenario and there are some scenes which actually are chilling. The focus is on two individuals in this society, who dare to fall in love, meet and have sex for pleasure and break one of the most important rules of this society. Needless to say, they are caught and brainwashed to accept the structure to become abiding citizens.
It is still hard to think that any organization can control each and every individual like this, but such a drastic change does not happen overnight. It happens with time and with the kind of technology and gadgets available, it seems we are heading there. Though I seriously hope not. This book was written way ahead of its time and it is only now that we are seeing some of the things that actually happen in our society. Things like controlling the media to say what the Government wants to say, technology and gadgets that know where you are and what you are doing are all happening in our society.
It is a must-read for everyone to know where our society is headed.
The Money Shot: Trash, Class, and the Making of TV Talk Shows
I am going through this non-fiction phase so you may see more non-fiction book reviews. This book is a study of American talk shows which led to the degradation of television content. Talk shows have been at the center of heated debates about its ethics, impact on people and responsible use of media.
This book discusses the issue from the side of the producers, the hosts, guests, experts and all those involved with this genre of television programming. It takes a look at how producers get the "Money Shot" which is basically that moment when the guest lets go of his/ her emotions and the kind of shot which garners ratings. It covers shows which are considered downright trashy to the classy ones. The book also talks about the motives behind why guests would want to talk openly about their problems in front of a live audience and the viewers.
The book is a decent read for those interested in topics related to television and programming.
Beyond A Billion Ballots: Democratic Reforms for a Resurgent India

Beyond a Billion Ballots is a look at the functioning and components of a democracy. It talks about political parties, voting formats, forms of democracy in other countries and problems in the Indian democracy. While this book has a lot of content related to different democratic functioning styles and examples from different countries, it fails to provide anything new related to Indian democracy.
The book lists out problems which are already known, does not provide effective solutions and is pro-BJP which is not a surprise considering Mr. Modi came for the launch of the book. It does not provide anything new that we do not read in the newspapers, conveniently leaves out BJP's flaws while focusing on Congress and does not give any practical solutions to India's current scenario. I am sure there are better books on Indian democracy written by more unbiased authors.